Des Moines' Home For Complete Family Dentistry
Ask any one of our Veranda Dentistry patients, and you'll realize that at the very heart of our practice is you. From our advanced technology and training that makes your experience faster and more comfortable, to our focus on whole body health and wellness, we promise to provide a dental experience like you've never had before.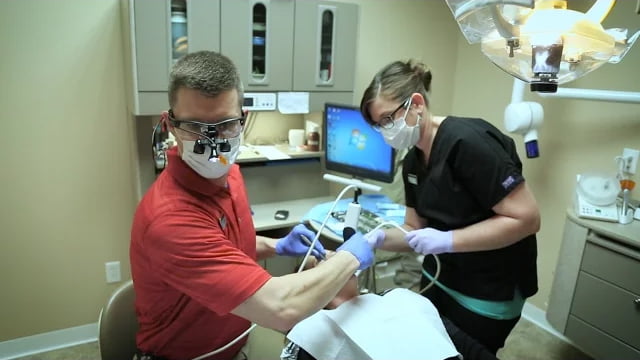 Our Doctor
Proud to serve and support our Polk County friends & neighbors.
OUR PHILOSOPHY
OUR PATIENTS COME FIRST
One of our goals at Veranda Dentistry is to be trusted as the best dental practice in our community. We want to provide you and your family with high-quality results using advanced technology and a friendly, efficient, knowledgeable dental team. We're committed to caring for and educating you to a state of optimal oral health.
Services & Technology
TO MAKE YOUR VISIT MORE COMFORTABLE
We believe in doing everything we can to make your experience as relaxed as possible. We regularly invest our time and resources into continuing our education and expanding our technology. This makes your experience faster and more comfortable, with less discomfort and shorter healing times. We are proud to bring our patients the very best solutions modern dentistry has to offer.
Experience the Convenience of Same Day Dentistry
Our advanced technology allows us to digitally design, fabricate, and place restorations in a single office visit!
Fewer appointments & less time in the dental chair
Combine with sedation for an even more comfortable experience
Crowns, bridges, & implants have never been more accessible
Eat, Speak, & Smile Again with Dental Implants
If left untreated, missing teeth can have an array of consequences and seriously affect your quality of life.
Implants look, feel, & function like natural teeth!
Advanced technology means improved comfort & longer-lasting results
Get started now with a Free Consultation
Discover why over 500 of your friends & neighbors have given us 5 Star Reviews online!
Testimonials
Why Our Patients Smile
Generosity and gratitude are large parts of the Veranda Dentistry mission, which is why we appreciate the kind reviews we receive online from our patients and community members alike. Thank you - we are touched by your thoughtfulness.
"I don't make many reviews but this place is by far the best Dentist office I've ever been to. I used to have high anxiety whenever I went to the dentist like most people do I assume, but ever since finding Veranda and their team. I almost get excited that I have a dentist appointment now." - Ryan
"I have to tell y'all Doctor Chad is Amazing omg pays attention and can relate to demands. The nurses that makes it easier for the Doc are amazing. Mrs Sally on the front no matter what the is going to bring she has a beautiful smile, now Mrs Jessica is also amazing I can complain and talk and talk and she is patient with me omg I love them. So all I have to say is I love my whole experience with this Facility." - L Antigua
"After years of not going out of nerves, worry and plain old fear, I was made very at ease today by the great experience here! Thanks so much for being very gentle and putting me at ease today with small talk and information while doing a deep cleaning of my teeth. I feel 100% better after this visit and feel like I will do much better going forward and not be so nervous and worried about the dentist! Thank you so much!! Very much recommend them!" - Nate
"The facility is clean and welcoming. The staff is very friendly, professional, and accommodating. The assistants have provided excellent service each time I've gone. They have answered all my questions and explained everything they were doing step-by-step so I felt included and informed. Highly recommend!!!" - Amanda
"After years of not going out of nerves, worry and plain old fear, I was made very at ease today by the great experience here! Thanks so much for being very gentle and putting me at ease today with small talk and information while doing a deep cleaning of my teeth. I feel 100% better after this visit and feel like I will do much better going forward and not be so nervous and worried about the dentist! Thank you so much!! Very much recommend them!" - Nate
"The facility is clean and welcoming. The staff is very friendly, professional, and accommodating. The assistants have provided excellent service each time I've gone. They have answered all my questions and explained everything they were doing step-by-step so I felt included and informed. Highly recommend!!!" - Amanda