Cosmetic Dentistry
Make Your Dream Smile a Reality
Today, most people agree that a beautiful, straight, white smile is an important social asset, and can be an indicator of confidence, happiness and success. On the other hand, crooked, yellow, or otherwise imperfect teeth can give off a less than favorable first impression. Is your smile sending the message you want it to?
If you're embarrassed by your smile, chances are you are not living up to your full potential. At Veranda Dentistry, our primary goal is of course oral health, but our secondary goal is to make sure our patients feel confident in showing their smile off to the world.
A simple cosmetic dental treatment could be all that stands between you and living your best life!
Take the First Step to a New You
Schedule a consultation today!
Teeth Whitening
Has your morning coffee routine taken a toll on your smile over the years? It's an unfortunate fact of life that our teeth tend to yellow and discolor with age, and with the help of some of our favorite vices. Coffee, tea, red wine and tobacco are some of the worst offenders when it comes to teeth staining. But before we go and do something dangerous like tell you to quit, we would like to offer you a more reasonable solution.
A professional teeth whitening is one of the simplest ways to take years off your smile and give your overall appearance a confidence boost. While, yes, there are hundreds of over the counter whitening products you can pick up along with your weekly groceries (how convenient!), we recommend saving your money for a whitening system that delivers the best bang for your buck.
Drug store whitening products are mildly effective at removing surface stains, but do nothing to remove the deep, intrinsic stains that give teeth their color. Only a professional teeth whitening treatment from Veranda Dentistry can do that. We use only the safest, gentlest, most effective professional teeth whitening agents to penetrate the teeth and give you the dramatically whiter smile you've been missing.
Whether you are getting married, getting back into the dating scene, preparing for a big work presentation, or you're just tired of looking tired, a professional teeth whitening from your Pleasant Hill and Johnston dentist is sure to give you the confidence boost you deserve.
Veneers
If you're looking for a more comprehensive solution to multiple aesthetic issues, or you're looking for a permanent solution for whiter, straighter, more perfect teeth, you may be a good candidate for veneers! Veneers are thin shells of tooth colored porcelain that are bonded to the visible surface of the teeth to improve their appearance. Veneers can correct a single problem tooth, or all your teeth with a full set!
Veneers are custom made to match each patient's unique smile. We can create your veneers to perfectly match your exact desired shape and shade to give you the beautiful smile you've always wanted.
Veneers are a wonderful solution for teeth that are:
Cracked, chipped or broken
Yellow, stained or discolored
Crooked, crowded or spaced
Oddly sized or shaped
Before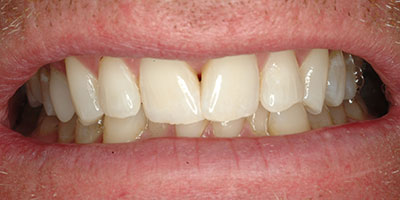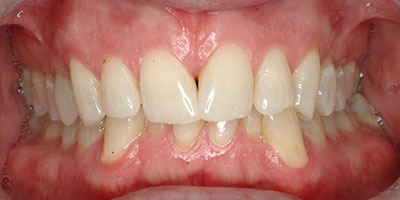 After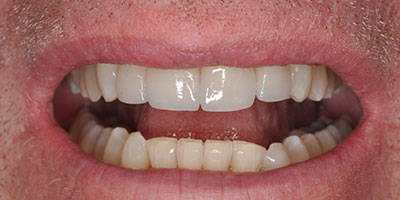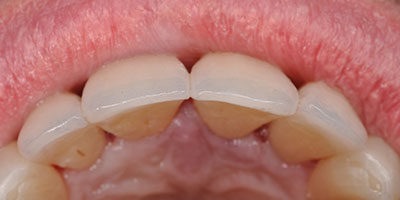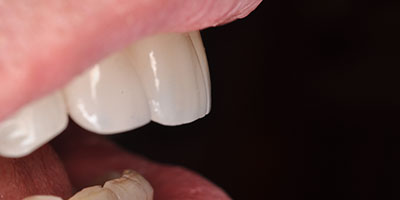 Veneers do require some preparation of the natural teeth in order to make space for them and ensure the best fit and strongest bond.
For this reason, veneers are a permanent solution – once you have veneers, you will always have veneers. But you can rest assured veneers are becoming an increasingly popular solution for imperfect teeth, and all of our veneers patients are absolutely thrilled with their results.
Although veneers are more stain resistant than your natural teeth, your Pleasant Hill or Johnston dentist may recommend avoiding staining agents because veneers are permanent and cannot be whitened later.
If you're ready for a smile makeover to improve your appearance, your confidence, and your quality of life, we would love to speak with you about veneers!
Contact Us
If you have any questions about cosmetic dentistry, or would like to schedule a visit with your Des Moines dentists, Dr. Chad Johnson at Veranda Dentistry, give us a call today at (515) 650-5531 or request an appointment online! Serving dental patients in Pleasant Hill, Johnston, Des Moines, Bondurant, Runnells, Mitchellville, Colfax, Prairie City, and all of Polk County, IA.
SCHEDULE NOW